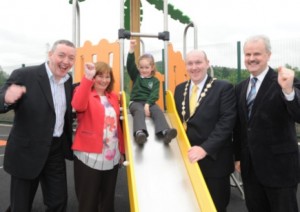 The long awaited Sally Gardens Play Park was officially opened on the 25th June 2012.
Special guests at the official launch included Jennifer McCann MLA – Junior Minister OFDFM, Alderman William Leathem – Mayor of Lisburn and Councillor Thomas Beckett – Chairman of the Leisure Services Committee.
The large turnout also included representatives of Sally Gardens Community Centre, Colin Neighbourhood Partnership, the Alpha Programme and Groundwork Northern Ireland.
A combination of funding from Lisburn City Council, Colin Neighbourhood Partnership and Groundwork NI has provided an essential facility for the Colin area.